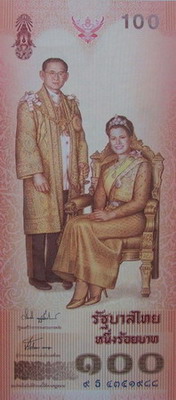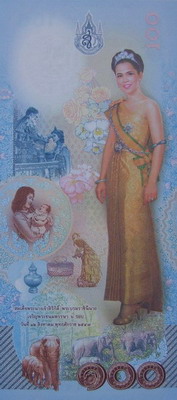 Appraisal price
Specimen in Thai UNC about 6,300 - 6,700 baht. <! 30 sep 2017 # 626>
Ordinary number with folder UNC about 380 - 400 baht. <! Jan 2017 # 588>
The price was updated on 30th October 2017.

<! adsense ads 5> <! end adsense ads 5>
Banknote info
Bank of Thailand have a royal permission to print and issue the commemorative banknote in occasion of 6th cycle of Queen Sirikit of King Rama 9 in 2004.

The banknotes were issued on 4th August 2004.

<! adsense 4> <! end adsense 4>
Banknote size
7.20 x 16.20 cm.
Amount of printing
About 7.3 million notes. The serial number is 9ธ 0000001 - 7299999.
Front
The main object is the image of His Majesty King Bhumibhol in the uniform of the supreme commander of the armed forces and the image of Her Majesty Queen Sirikit in Thai Sivalai with tiara.
Back
The image of Queen Sirikit wearing tiara and Thai Chakri.