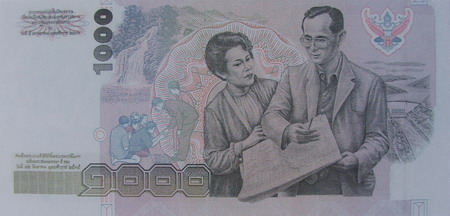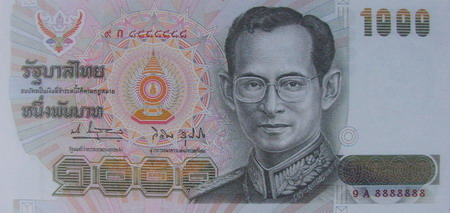 Appraisal price
Ordinary number UNC about 2,200 - 2,400 baht. <! 5 Aug 2017 # 1047>
The price was updated on 30th October 2017.

Banknote info
Bank of Thailand have a royal permission to print and issue the commemorative banknote in occasion of 5th cycle of Queen Sirikit of King Rama 9 in 1992.

The banknotes were issued on 10th August 1992.

<! adsense 4> <! end adsense 4>
Amount of printing
About 10 million notes. The serial number is 9A 0000001 - 9999999.
Appearance
The commemorative banknotes identical to 1000 baht 14th series, with change of the watermark being the image of Her Majesty Queen Sirikit and additional inscript "HM. Queen Sirikit, the 5th cycle birthday anniversary celebration, August 12th 1992" at the lower of the back side.