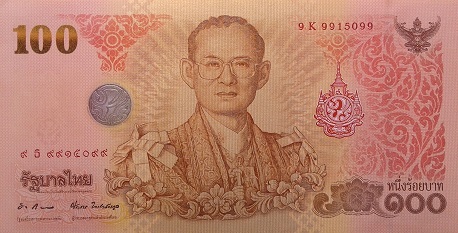 Appraisal price
Ordinary number UNC about 300 - 330 baht. <! Dec 2016 # 2181, 2182>
The price was updated on 30th October 2017.

Banknote info
In the celebrations on the auspicious of His Majesty King Bhumibhol Adulyadej's 7th Cycle birthday anniversary, Bank of Thailand has permission to issue the commemorative banknotes in 2011.

The banknotes were issued on 2nd Dec 2011. The price of banknote is 200 baht with covering paper.

<! adsense 4> <! end adsense 4>
Banknote size
8.40 x 16.20 cm.
Front
The main element is the image of His Majesty King Bhumibhol Adulyadej over the background pattern printed with metalic gold ink.
Back
The main element on the left side is the image of HM. King during his visit to Mae Roem Reservoir Project under the royal initiative of HM. King. The other elements are the images of royal activities,Kwai Noi Bamrung Daen Dam, Chaipatana Aerotor.
Signature on Banknote
Minister of Finance


Mr. Teerachai Poowanatnaranubal (9 Aug. 2011 - 18 Jan. 2012)

Governor of Bank of Thailand


Mr. Prasarn Triratworakul (1 Oct 2010 - 30 Sep 2015)