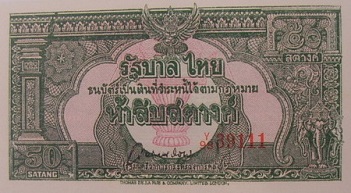 Appraisal price
Ordinary number signature Wiwatchai UNC about 2,000 - 2,100 baht.<! Aug 2017 # 917>

The price was updated on 25th November 2017

<! adsense ads 5> <! end adsense ads 5>
Banknote Info
This banknote was printed at the suggestion of Khun Samaharnhitakhadi, minister of finance, after his official trip to Japan and China. The minister of finance placed orders with Thomas de la Rue in 1941, shortly before the outbreak of the WW2. The banknotes had been printed but were stored at the company because of the war and delivered to Thailand after the end of the war.
This 50 Satang banknote was announced on January 26th, 1948.
Banknote size
6.30 x 11.50 cm.
Serial code
Z 1 - Z 20, Z 81 - Z 100, Y 1 - Y 100

<! adsense 4> <! end adsense 4>
Front
The main object is the constitution placed on a pedestal tray surrounded by a guilloche design. The upper center is the Garuda. The 3 headed elephant ai at the lower right corner.
Back
The main object is the Phra Samut Jedi at Samutprakarn.
Signatures on banknote
Minister of Finance


H.H. Prince Wiwatchai (11 Nov 1947 - 8 Apr 1948)