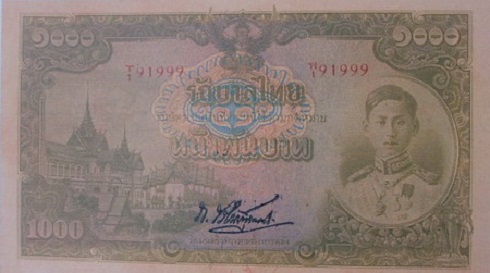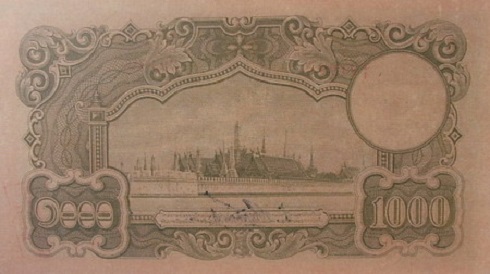 Appraisal price
Ordinary number signature Pao VF about 295,000 - 301,000 baht.<! Apr 2017 # 289>

The price was updated on 11th December 2017.

<! adsense ads 5> <! end adsense ads 5>
Banknote Info
During the World War 2, Thai government had the banknote shortage problem because there was no delivered banknotes from Thomas de la Rue due to England was at war with Japan. The Thai government requested Japan to arrange the banknote printing. The Mitsui Bussan Kaisha Company was commissioned to act as an agent to contact the Japan Printing Bureau.
The banknotes later were different from those of early batches because Japan was heavily attacked by the Allies towards the end of the war thus causing shortage in raw materials.
The 5th series 1000 Baht banknotes were announced on 11th September 1944.
In the beginning of 1945, the inflation in Thailand was very hike. The Bank of Thailand tried to absorb the 1000 baht banknotes by exchange them into saving bonds. The government promulgated the saving bond in time of crisis act in 1945. One those who held 1000 banknotes could exchange the saving bonds and could redeem them in 12 months with 1% interest.
Banknote size
10.00 x 17.50 cm.

<! adsense 4> <! end adsense 4>
Front
The main object is the image of King Rama 8 on the right. The left is the image of the Chakri Mahaprasart and Dusit Mahaprasart Throne Halls. The middle is the "Thai Government" on guilloche design. The serial code and number were printed with red ink. The watermark image is the constitution on pedestal tray.
Back
The main object is the Anandasamakom Throne Hall.
Signatures on banknote
Minister of Finance


General Pao pianlert Boripanyutakit (17 Dec 1941 - 1 Aug 1944)