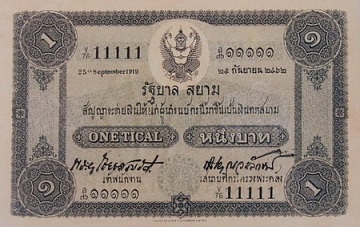 Appraisal price
Ordinary number signatures Kittiya-Chaiyos EF about 47,200 - 49,600 baht.<! Apr 2017 # 165 (20,000)>
Ordinary number signatures Kittiya-Chaiyos VF about 27,100 - 28,500 baht.<! Dec 2017 # 570 (23,000)>
Ordinary number signatures Kittiya-Thep UNC about 80,000 - 84,300 baht.<! Dec 2016 #778 (50,000)>
Ordinary number signatures Kittiya-Thep EF about 49,600 - 52,000 baht.<! Apr 2017 #167(30,000)>
Ordinary number signatures Kittiya-Thep F about 28,300 - 29,700 baht.<! Apr 2017 #168 (10,000)> <! �Ţ������ ����� ����¤-�����෾ ��Ҿ UNC �Ҥһ���ҳ 30,100 - 32,200 �ҷ Dec 2017 # 571>
Ordinary number signatures Supayok-Thep UNC about 42,500 - 44,600 baht.<! Dec 2016 #779 (32,000)>
Ordinary number signatures Supayok-Thep VF about 23,600 - 24,800 baht.<! Aug 2017 # 726 (20,000)>

The price was updated on 29th December 2017.

Banknote Info
The 1 Baht 1st series Thai banknotes were produced by Thomas de la Rue and printed only one side with flat ink as called uniface banknote. The notes were not cirlulated at the time of the first bunch banknote issuance bacause of abundant of coins. But the World War 1 brought the lack of silver and copper and their prices rose over the coin's face value so the coin fusing into the ingot was profitable. The government had to issue 1 Baht banknote into circulation. But the Banknote Act stated that the lowest value of banknote is 5 Baht so the government overprinted 50 Baht on some of uncirculated 1 Baht banknotes and launched them in appropriate amount.
The main appearance of notes were like boxing stage plan, the denomination value were on the four corners in Thai and Arabic. The Royal Coat of Arms were in the middle top above Thai words "The Siam government promise to pay the money to the holder in Siamese currency". The image of three-headed elephant watermark located at the middle which surrounded by the watermarks of the Government of Siam and the denomination indicated in both Thai and Roman.
1 Baht banknotes, 1st series, are identical in design to 5 Baht banknotes. The dominant color is gray and the border is printed with black ink. But there are no Chinese and Arabic words like the others denominations.
1 Baht type 1 banknotes were not issued in the reign of King Rama 5 but were announced on 3rd October 1918 in the reign of King Rama 6.
Banknote size
10.50 x 16.50 cm.
Prefix codes
Z1 - Z100 , Y1 - Y100 , X1 - X100 , W1 - W100 , V1 - V100 and U 1 - U100.

<! adsense 4> <! end adsense 4>
Signatures on banknote
Kittiya - Chaiyos
Kittiya - Thep
Supayok - Thep



Ministers of the Royal Treasury


H.R.H. Prince Kitiyakorn Woralak (17 Feb 1907 - 17 Jan 1922)


H.H. Prince Supayok Kasem (17 Jan 1922 - 26 Oct 1929)

Officials


Phraya Chaiyos Sombat (1 Jan 1917 - 6 Dec 1920)


Phraya Thep Rattanarin (6 Dec 1920 - 17 Feb 1925)