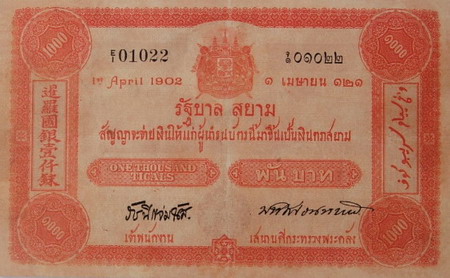 1000 Baht type 1 yellow offset at the middle, double outline alphabet watermark, serial number run from E1 00001.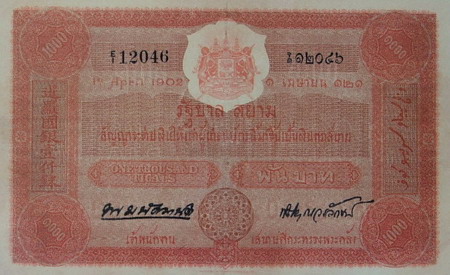 1000 Baht type 2 change yellow offset area to brown microtext "THOUSAND TICALS", serial number run from E1 10001.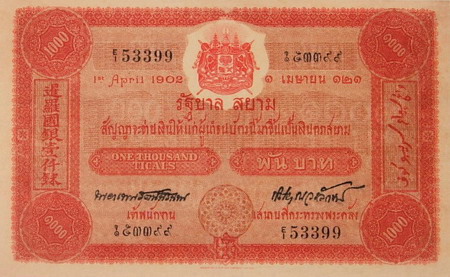 1000 Baht type 3 add serial numbers under signatures and change alphabet watermark from double outline to single line, serial number run from E1 20001.
Appraisal price
The price is on updated process.

Banknote Info
The 1000 Baht 1st series Thai banknotes were produced by Thomas de la Rue and printed only one side with flat ink as called uniface banknote. There were 3 types with little adjustment in details.
The main appearance of notes were like boxing stage plan, the denomination value were on the four corners in Thai and Arabic. There were Chinese words on the left and Malay on the right. The Royal Coat of Arms were in the middle top above Thai words "The Siam government promise to pay the money to the holder in Siamese currency". The image of three-headed elephant watermark located at the middle which surrounded by the watermarks of the Government of Siam and the denomination indicated in both Thai and Roman.
1000 Baht type 1 banknotes were announced on 7th September 1902.
1000 Baht type 2 banknotes were announced on 23rd May 1909.
1000 Baht type 3 banknotes were announced on 1st November 1912.
Banknote size
12.60 x 20.50 cm.
Serial number
Type 1 starts from E1 00001.
Type 2 starts from E1 10001.
Type 3 starts from E1 20001..

<! adsense 4> <! end adsense 4>
Signatures on banknote
Mahisorn - Rachanee
Mahisorn - Suwan
Kittiya - Manas
Kittiya - Chaiyos
Kittiya - Thep
Supayok - Thep



Ministers of the Royal Treasury


H.R.H. Prince Mahisorn Ratchaharutai (26 Aug 1896 - 1 Jun 1906)


H.R.H. Prince Kitiyakorn Woralak (17 Feb 1907 - 17 Jan 1922)


H.H. Prince Supayok Kasem (17 Jan 1922 - 26 Oct 1929)

Officials


H.H. Prince Ratchani Chamjaras (7 Sep 1902 - 3 Mar 1903)


Phra Suwanpakdi (5 Mar 1903 - 21 Aug 1909)


Phra Manas Manit (21 Aug 1909 - 1 Jan 1917)


Phraya Chaiyos Sombat (1 Jan 1917 - 6 Dec 1920)


Phraya Thep Rattanarin (6 Dec 1920 - 17 Feb 1925)