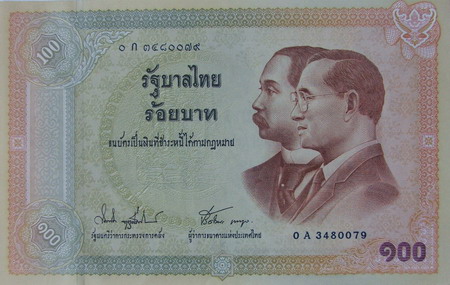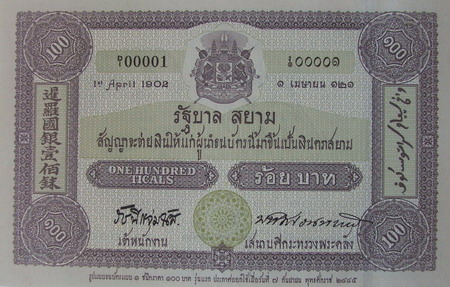 Appraisal price
Specimen in Thai UNC about 4,000 - 4,300 baht. <! Dec 2016 # 2365>
Ordinary number UNC about 160 - 180 baht. <! Aug 2017 # 1060>
The price was updated on 30th October 2017.

Banknote info
On the auspicious occasion of Centenary of Thai banknotes, Bank of Thailand has permission to print and issue the commemorative banknotes and issue on 9th September 2002.

<! adsense 4> <! end adsense 4>
Banknote size
10.50 x 16.50 cm.
Amount of printing
About 15 million notes. Serial number is 0A 0000001 - 1A 5000000
Front
The main object is the images of His Majesty King Rama 9 and His Majesty King Rama 5 in their regal attire.
Back
The back of banknote identicals to 100 Baht 1 series.