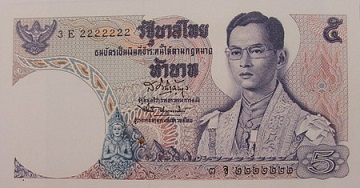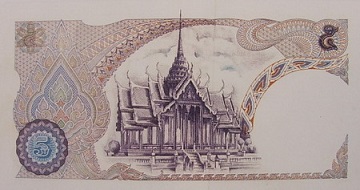 Appraisal price
Ordinary number signatures Serm-Pisoot UNC about 165 - 175 baht.<! Sep 2017 # 371>
Solid number include serial code xxxxxxx signatures Sommai-Pisoot UNC about 88,000 baht.<! Sep 2017 # 537>

The price was updated on 20th November 2017

<! adsense ads 5> <! end adsense ads 5>
Banknote Info
The 11th series banknotes were the first banknotes that were printed by Thailand banknote printing works. At the begining, the designing and plate engraving were made by foreign expert.
This 5 baht banknote was issued on June 24th, 1969.
Banknote size
6.75 x 13.00 cm.

<! adsense 4> <! end adsense 4>
Front
The main color of the banknote is purple. The main object is the image of King Rama 9 in full regalia.
Back
The main object is the image of the Arphonpimok Prasart Pavilion that located at the boundary of Dusit Maha Prasart throne hall.
Signatures on banknote
Minister of Finance


Mr. Serm Vinijchaikul (11 Mar 1969 - 15 Oct 1973)

Governor of Bank of Thailand


Mr. Puay Ungpakorn (11 Nov 1959 - 15 Aug 1971)


Mr. Pisoot Nimmanhemin (16 Aug 1971 - 23 May 1975)

Security features
Raised ink, image watermark, security thread.