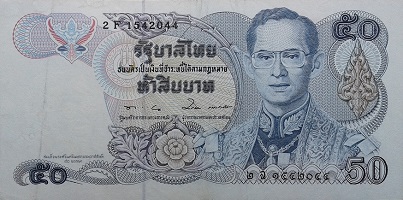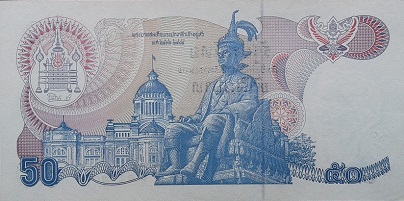 Appraisal price
Ordinary number UNC about 230 - 280 baht. <! Jan 2017 # 559, 560>
The price was updated on 30th October 2017.

Banknote info
In the celebrations on the auspicious of Her Royal Highness Princess Mother Srinakarindra Boromrajajonani's 90th birthday anniversary, Bank of Thailand has permission to issue the commemorative banknotes in 1990.

The banknotes were issued on 22nd October 1990.

<! adsense 4> <! end adsense 4>
Amount of printing
Not found this information. The serial code is 0F - 2F.
Appearance
The banknotes identical to 50 baht 13th series, with change of the watermark being the image of HRH. Princess Mother Srinakarindra Boromrajajonani and additional inscript "Somdej Phra Srinakarindra Boromrajajonani 60 years old" at the lower left of the front side.