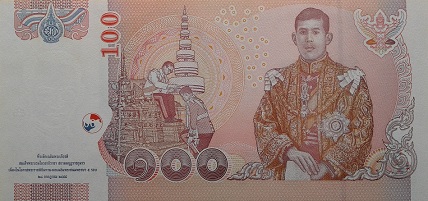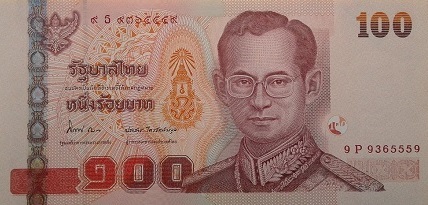 Appraisal price
Specimen in Thai UNC about 6,300 - 6,700 baht. <! 30 sep 2017 # 630>
Ordinary number UNC about 280 -300 baht. <! Apr 2017 # 445>
The price was updated on 30th October 2017.

Banknote info
In the celebrations on the auspicious of His Royal Highness Crown Prince Maha Vajiralongkorn's 5th Cycle birthday anniversary, Bank of Thailand has permission to issue the commemorative banknotes in 2012.

The banknotes were issued on 27th July 2012.

<! adsense 4> <! end adsense 4>
Front
The design of the front side of banknote identical to 100 baht banknote 16th series.
Back
The main object is the image of HRH. Crown Prince Maha Vajiralongkorn. The scene of His Royal Highness being confered the title of Crown Prince at the middle was printed in maroon and orange.
Signatures on banknote
Minister of Finance


Mr. Kittirat Na Ranong (18 Jan 2012 - 7 May. 2014)

Governor of Bank of Thailand


Mr. Prasarn Triratworakul (1 Oct 2010 - 30 Sep 2015)