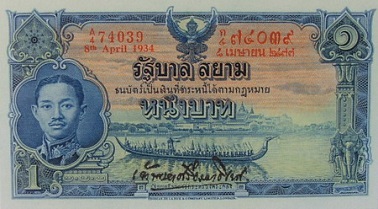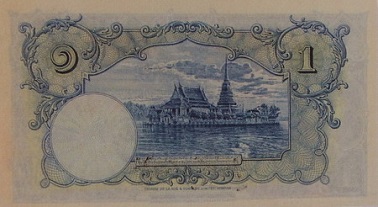 Appraisal price
Ordinary number Ministry of Royal Finance signature Phraya Sri UNC about 6,100 - 6,400 baht.<! Apr 2017 # 204>
Ordinary number Ministry of Royal Finance signature Phraya Man UNC about 4,700 - 5,000 baht.<! Aug 2017 # 761>
Ordinary number Ministry of Finance signature Phraya Man UNC about 7,100 - 7,500 baht.<! Dec 2017 # 612>

The price was updated on 22nd December 2017.

<! adsense ads 5> <! end adsense ads 5>
Banknote Info
His Royal Highness Prince Prachatipok Sakdidej ascended the throne to become the 7th monarch of the Chakri Dynasty on 26th November 1925. In early of the reign, the 2nd series banknotes had been still circulated. They had just launched since 21st July 1925 (4 months before the King Rama 7 ascended the throne).
However, because of the change of monarch and before the 2nd series banknotes ran out, the Ministry of the Royal Finance decided to order the new series of banknotes.
Thomas de la Rue Company proposed the King's portrait like as universal practice of banknote printing due to the intricate details and intaglio printing appropriate methods.
The issuance of banknotes was delay for many years because of the political revolution by People Party in 1932. The country administrative system became to democracy with the King as the constitutional monarch. In 1934, the 3rd series 10 baht, 1 baht and 5 baht banknotes were issued respectively. But the 20 baht banknotes were issued after the abdication of the King Rama 7 on 2nd March 1934.
The 3nd series banknotes were continually issued in the reign of King Rama 8. The different of the 3rd series type 2 banknotes in the reign of King Rama 8 was the change of portrait of the King.
The financial department name was changed by the revolution from the Royal Treasury Department to Ministry of Royal Finance in 1933 and finally changed to Ministry of Finance on 9th December1933. So the 10 baht and 1 baht banknotes that were issued before the announcement had old name of Ministry of Finance while all denominations were printed the ministry of Finance after that.
The 3rd series 1 Baht type 1 banknotes were announced on 8th August 1934.
Banknote size
7.50 x 13.50 cm.
Serial number
A 1 - A 100 and B 1 - B 100

<! adsense 4> <! end adsense 4>
Front
The main object is the image of King Rama 7 on the left. The middle image is the Supanahong Royal Barge. The serial code and number were printed with red ink. The date of banknote was printed in red under serial number.
Back
The main object is the Anandasamakom throne hall.
Signatures on banknote
Minister of Royal Finance


Chaophraya Sritanmatibet (24 Jun 1933 - 20 Sep 1934)

Minister of Finance


Chaophraya Sritanmatibet (24 Jun 1933 - 20 Sep 1934)


Phraya Manawarachasewi (22 Sep 1934 - 1 Aug 1935)