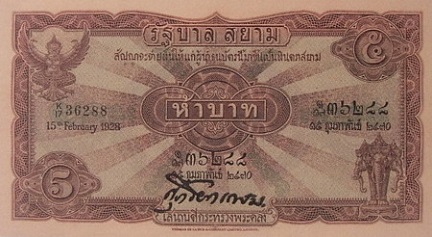 5 Baht type 1 with the title "promise to pay"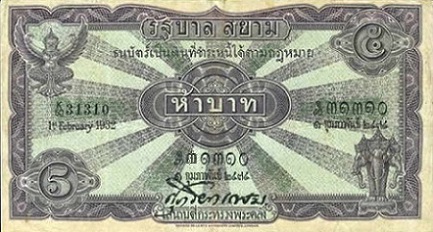 5 Baht type 2 the title was change to "banknote is legal tender"
Appraisal price
Type 2 ordinary number signature Supayok EF about 20,700 - 21,700 baht.<! Aug 2017 # 738>

The price was updated on 24th December 2017.

Banknote Info
His Royal Highness Crown Prince Vachirawut ascended the throne to become the 6th monarch of the Chakri Dynasty on 11th November 1910. In early of the reign, the 1st series banknotes had been still circulated.
The government intended to change the form of banknotes and seek the company to print. Thomas de la Rue finally won the bid and was assigned to print the 2nd series banknotes.
This was the first series of Thai banknotes to bear an image due to counterfeiting. But there was not watermark in the paper.
King Rama 6 considered that picture of the Royal Ploughing Ceremony was appropriate to appear on a banknote because the ceremony representing an important part of the Thai culture.
At the beginning the 5 baht banknotes were print with the title "Promise to pay to bearer on request in Siamese currency" that comply to the current currency act. Then the Temporary Currency Act was announced in 1918 to cancel the right to pay.
Until the Currency Act in 1928, it was specified that country's money consisted of banknotes and coins. So the type 2 banknotes were changed the title to "The banknote is legal tender in accordance with the law".
The 2nd series 5 Baht type 1 banknotes were announced on 18th Febrauary 1925.
The 2nd series 5 Baht type 2 banknotes were announced on 19th Febrauary 1928.
Banknote size
8.50 x 15.50 cm.
Type 1 Serial number
K 1 - K 100

<! adsense 4> <! end adsense 4>
Front
The face value banner is on guilloche design with twelve blue rays each of which was made up of the microprinted text Government of Siam written in Thai. The Roman alphabet and Arabic serial number is at upper left and the Thai alphabets and Thai serial numbers is at upper right and lower middle with their own banknote dates.
Back
The main object is the Royal Ploughing Ceromony in the center with the value expressed in Thai and Arabic numerals placed on a guilloche design.
Signatures on banknote
Type 1
Supayok



Type 2
Supayok
Komarakul



Ministers of the Royal Treasury


H.H. Prince Supayok Kasem (17 Jan 1922 - 26 Oct 1929)


Phraya Komarakul Montri (26 Oct 1929 - 9 Apr 1932)