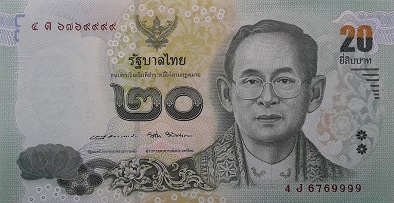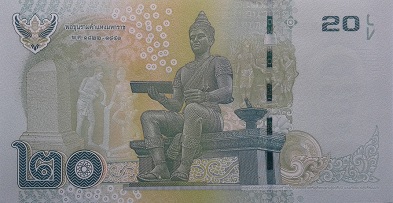 Appraisal price
Collectors can exchange for the used condition banknotes at any Thai Banks on face price.

<! adsense ads 5> <! end adsense ads 5>
Banknote Info
The 16th series Thai banknote was designed in the theme of "the great Kings" in remembrace of the greatness of the former kings since Sukhothai kingdom.
This 20 baht banknote was launched on 1st April, 2013.
Banknote size
7.20 x 13.80 cm.

<! adsense 4> <! end adsense 4>
Front
The main color of the banknote is green. The image of King Bhumibol Adulyadej is at the right middle. The Garuda image and the Thai government words are at the left middle.
Back
The main picture at the middle is the image of the statue of King Ramkhamhang that surrounded by images that reflect the H.M. King's greatness.
Signatures on banknote
Minister of Finance


Mr. Kittirat Na Ranong (18 Jan 2012 - 7 May. 2014)


Mr. Sommai Phasee (31 Aug 2014 - 19 Aug 2015)


Mr. Apisak Tantivorawong (19 Aug 2015 - present)

Governor of Bank of Thailand


Mr. Prasarn Triratworakul (1 Oct 2010 - 30 Sep 2015)


Mr. Veerathai Santiprabhob (1 Oct 2015 - present)
Security features
Raised ink, image watermark, security tread, puzzle number, black light color change ink, microtext.