Despite the most effort to encorage the use of paper money, people still preferred Pod Duang. Whenever they got paper money, they would instantly changed into Pod Duang at the Royal Treasury Department. This caused Mai were not popular as Government intention.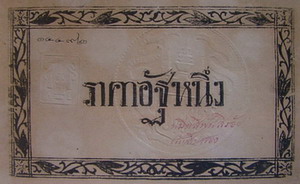 His Majesty King Chulalongkorn (King Rama V) acceeded to the throne in 1863 and restructured the monetary and financial system by adopting western pattern. In 1873, the value of tin and copper in the world market rose higher than the face value of Pod Duang, so speculators melt them and exported. The shortage of Pod Duang became widespread.
People adopted Pee (Gambling house's chips) as auxiliary exchange media. Pee were porcelain chips which were insteadly used as money in gambling house and they could be return into money all the time. With this comfortable, people also used Pee as commonly exchange in the market. In the other hand, people sometimes got disadvantages in return rate from the gambling house opreators, and losed their money because of the invalid of gambling house license.
In order to solve the specific period problem, King Rama V ordered a minting machine from Europe to produce copper coins and ordered copper coins from England. All purchasing took half a year, therefore His Majesty issued Att Kradad as the low value paper money into circucation in 1874 to reduce the severe shortage of coins.
Att Kradad were issued in 1874 with the one side printed white paper design. The spiral leaves border was printed with black ink and the value inscription "1 Att value" was printed at the middle. The serial number were written at the left top in Thai numerals while they were also written with Thai words at right bottom of the paper. The circular and square shape Royal insignias were embossed on the note.
There were a number of Att Kradad issued in circulation for used along the Pee. After the imported coins arrived and the coin production proceeded, all Pee and Att Kradad were compleatly redeemed from circulation.